Check Spelling, Version 6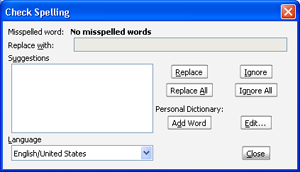 On the Windows® platform spell checking in realtime is provided using inline spell checking from MySpell. MySpell provides a free open-source dictionary for over 40 languages. Misspelled words have a wavy red underline.
There is also a Check Spelling dialog box where you can choose to replace a misspelled word, or to ignore the suggested corrections. You may also specify which language to use.
On the Mac® the spellchecker uses the OS X® dictionary.
---