Document 325
Symbol panels are scrambled
Version: 3.x - Scientific WorkPlace, Scientific Word, & Scientific Notebook
Problem
The drop down symbol panels appear scrambled, similar to this: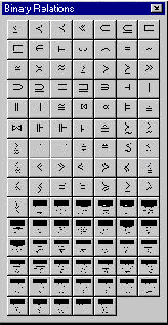 Explanation
The video driver may be outdated.
Solution
Download a new video driver from the manufacturer of your computer or video card manufacturer.
The picture of the above symbol panel was provided by a customer using Micron Millennia XKU's with a DIAMOND VIPER V330, 4 MB,128 BIT AGP video card running Windows NT 4.0 Workstation. The problem was solved by updating to the current version of the driver that Diamond has on its web site.
Revised 06/17/02
This document was created with Scientific WorkPlace.